*The Pilot Program is formally being launched with the Internal Medicine and Anesthesiology Programs. However, residents from any program who have experienced an adverse event and would like to be connected with a Peer Supporter please complete the survey above. 
The Resident Wellness Office is looking forward to combining our previous Wellness Champions Network and Peer to Peer Program to launch a pilot project of a new Peer Support Program!
~
"The UBC PGME Dean's Office is delighted to support the Resident Wellness Office as they launch the much anticipated Peer Support Program.  Doing this in partnership with Dr. Jo Shapiro of Harvard's Brigham and Women's Hospital is a huge honour and we have the utmost confidence in the success of supports like this. We strongly encourage our Residents to reach out for support should they need. This is an evidence based, highly researched peer support model.  As the program unfolds, we welcome any feedback to help better support our residents." -Dr. Ravi Sidhu, Associate Dean, PGME
~
"The UBC Internal Medicine program is very excited to be part of this Resident Wellness Office pilot program for residents who experience adverse patient events. Similar programs have been very effective for residents in many institutions around North America. Please share any such occurrences with their office." – Dr. Mark Roberts, Program Director Internal Medicine
What is the Peer Support Program Pilot Project?
The Peer Support Program offers Residents who experience an adverse event in the work environment an opportunity to talk to another Physician (Faculty or Senior Residents) for support in a confidential, non-judgmental environment. The Resident Wellness Office (RWO) is excited to be partnering with Dr. Jo Shapiro to pilot her evidence-based Physician Peer Support program. Dr. Shapiro is an Associate Professor at Harvard Medical School and the Director of the Centre of Professionalism and Peer Support at the Brigham and Women's Hospital.
Why is a Peer Support Program needed?
In a 2011 study, Dr. Shapiro found that 88% of Physicians found that talking to another Physician was the preferred source of potential support (over other supports such as an Employee Assistance Program or other mental health professionals). As fellow Physicians are the most preferred source of support, research advocates for peer support as the most effective way to address this important issue.
The current medical culture makes it extremely difficult to reach out for support. The RWO previously had a Peer Support Program that was a reach-out model, where Residents looking for peer support would reach out to the RWO to be connected with a peer. This model was heavily under-utilized. This Pilot Project supports the evidence-based reach-in model, where Peer Supporters will connect with Residents who experience an adverse event to offer support.
How long will the Pilot Project take place?
The duration of the pilot project will be one year. It will begin in February 2021 following the training of Resident-nominated Staff and Senior Residents as Peer Supporters by Dr. Jo Shapiro. It will end in December 2021 with gathering feedback from Peer Supporters as well as those supported. The evaluation will be shared and ongoing commitment to the program will be determined at that time.
Who is involved in the Pilot Project?
The Peer Support Program will be initially piloted with the Internal Medicine and Anesthesiology programs. Other programs may be included at a later date- please reach out to resident.wellness@ubc.ca if your program is interested in participating in the pilot project. After the pilot project, the goal for the RWO is to expand the Peer Support Program to all residency training programs at UBC.
Who are Peer Supporters? How are they prepared and supported throughout the role?
Following Dr. Shapiro's evidence-based peer support model, all Peer Supporters are nominated by Residents as people whom they would want to talk to about an adverse event. The RWO emailed all Residents in October 2020 to nominate Senior Residents or Staff as Peer Supporters.
Peer Supporter nominees were offered to voluntarily participate in the program. All interested Peer Supporters have participated in a training session with Dr. Shapiro before the start of their role in December 2020 and January 2021. Ongoing meetings facilitated by the RWO will be hosted throughout the year to provide ongoing support to Peer Supporters and gather feedback from the pilot.
What is an adverse event? Who can share an adverse event with the RWO?
An adverse event is any patient interaction that could be emotionally upsetting to a physician. This might include a difficult/ aggressive patient interaction, a patient death, a near miss, a known risk to treatment or procedure, a medical error, or a complication. Any resident, Chief Resident, Attendings, or Faculty can share with the RWO that a resident was involved in an adverse event.
Can I access Peer Support for reasons other than an adverse event?
Yes! Peer Support is not just for adverse events. We ask that adverse events are shared with the Resident Wellness Office so our Peer Supporters are able to reach out to residents. If you are a resident who would like Peer Support for other reasons, please reach in to our office by completing this form.  Other reasons may include burnout, academic difficulty, remediation, negative feedback, CARMS, or the general stress of residency.
How do I request Peer Support?
Whether you are sharing an adverse event that a resident experienced or are a resident who would like peer support, please complete this form. 
How will feedback be gathered on the Pilot Project?
The Resident Wellness Office is engaging with Program Directors, Chief Residents, and other Residents with a central role in resident wellness throughout the project to gather additional feedback regarding the pilot and address questions and concerns. After each peer support reach out, a short feedback survey is distributed to the Peer Supporter and the Resident who received support.
What does the peer support process look like?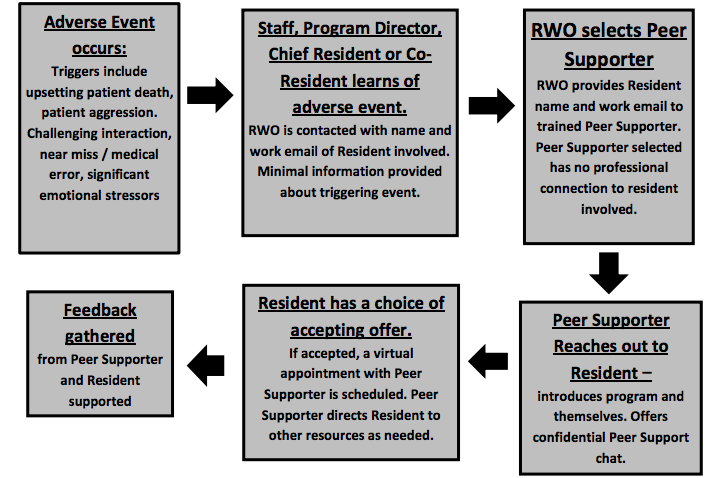 Who can I contact with questions or feedback about the project?
Elizabeth Sabine, RWO Counsellor, and Aileen McKeown, RWO Program Coordinator, are championing the launch of this program. Please email resident.wellness@ubc.ca with any questions or feedback.