Competency-Based Medical Education is an approach to physician development that focuses on the process and outcomes of training, and makes the achievement of competencies more visible and measurable. It is a model designed to be adapted and restructured for each individual resident. In CBME, coaching and feedback occurs in the moment and in relation to specific tasks, whereas in a traditional model of postgraduate medical education, assessments occur after a set period of time and often removed from daily clinical work.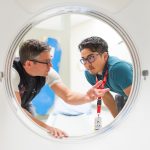 A CBME model of postgraduate medical education places frequent, low-stakes assessments with an emphasis on coaching and self-reflection at the center of residency education. Entrustable Professional Activities (EPAs) are the work-based assessments specific to a CBME framework, and are used to document completed tasks. This method of assessment conveys more explicit expectations, allows for better capture and understanding of a resident's abilities, and provides more data points for each rotation.
Competency-Based Medical Education helps to formalize and document the important work of coaching that already occurred in a traditional postgraduate setting.
Competency by Design (CBD)
Competency by Design (CBD) is the staged initiative developed by the Royal College of Physicians and Surgeons of Canada (RCPSC) with the goal of "[enhancing] patient care by improving learning and assessment across the continuum from residency to retirement." A hybrid model of Competency-Based Medical Education, CBD incorporates frequent assessment and coaching into the stages of residency outlined in the CanMEDS framework, which the RCPSC developed in 2015.
Competence by Design Launch Schedule
To date, thirty-one Royal College programs have launched CBME: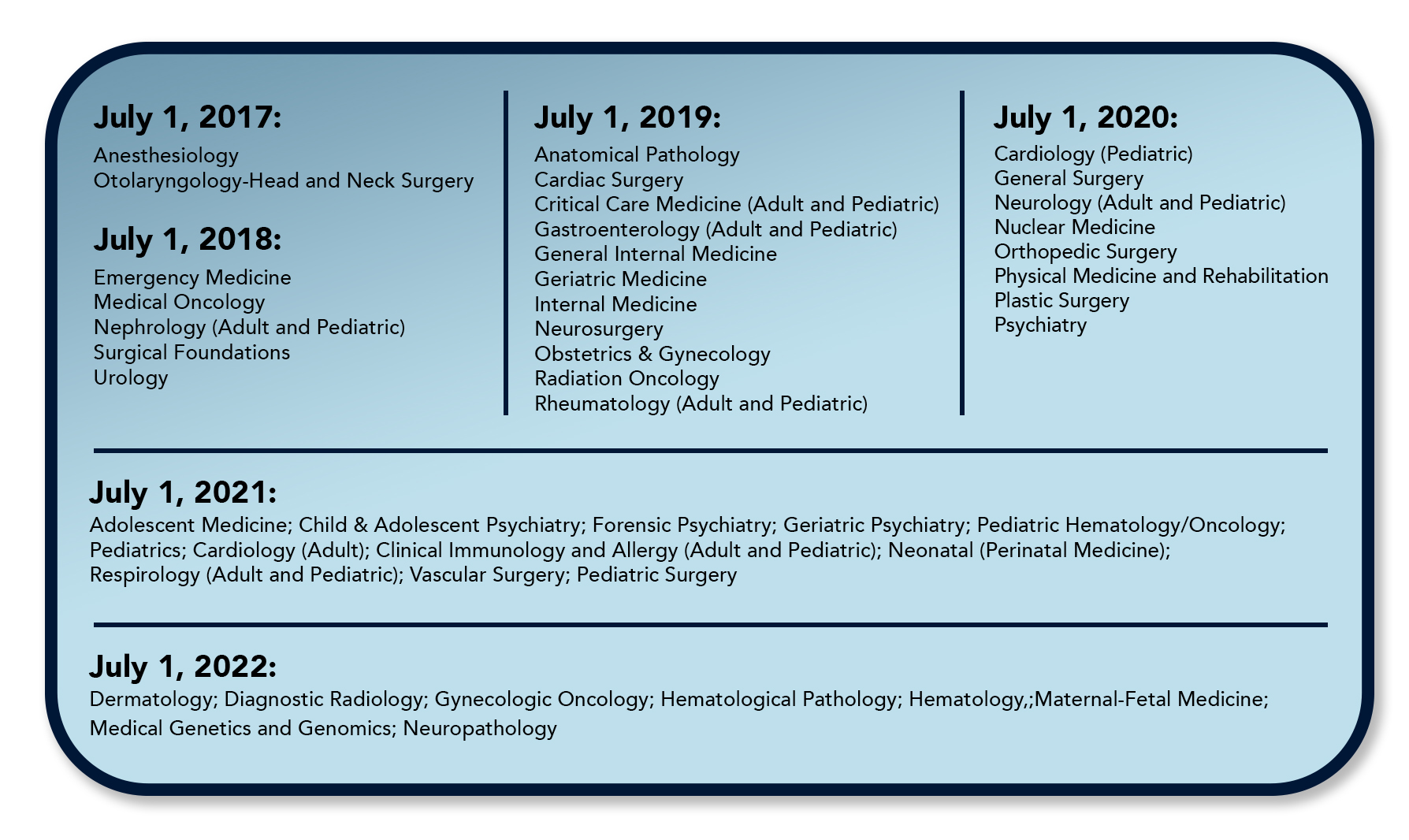 Please refer to the Royal College of Physicians and Surgeons of Canada CBD Discipline Launch Schedule for the most current information on future implementation timelines.
Triple C Competency-based Curriculum
UBC implemented the College of Family Physicians of Canada's (CFPC) Triple C Competency-based Curriculum in 2012. The Family Medicine initiative is based on the principles of comprehensive care, continuity of education and patient care, and centered in Family Medicine. Triple C was also developed in response to the pre-existing CanMEDS-FM model, as well as the Evaluation Objectives in Family Medicine.
Entrada is the UBC Faculty of Medicine's integrated teaching and learning platform that provides Postgraduate Medical Education with secure access to CBME assessments and dashboards. Residents, faculty and administrative staff require a CWL account in order to access Entrada.
Entrada User Guides:
Entrada User Video Guides:
| Part 1: Logging in to Entrada and Setting up a PIN | Part 2: Triggering Assessments and viewing outstanding assessments |
| --- | --- |
| | |
---
CBME Resources
The following sections contain useful learning tools that will help you understand and prepare yourself for education under a Competency by Design approach.
CPD Accredited Faculty Development Self-Study Module:
Faculty can receive MOC credits for completing the "CBD: Resident Training and Assessment" module. The completion certificate survey is embedded within the module.
---
Competency by Design Faculty Development Presentation Slides:
Note to organisers regarding MOC accreditation credits:
Faculty can receive MOC credits for attending a program-led session based on the "CBD: A Coaching Approach to Feedback" slides below. Attendees are required to fill out the completion certificate survey and an evaluation survey linked here.
Presentation content may be adjusted and personalized to programs as needed. However, for the purpose of MOC accreditation credits, presenters should NOT modify the title or objectives within the presentation.
---
---