The Faculty of Medicine and PGME continue to monitor all Public Health Orders as related to COVID-19, and respond as required. It is the expectation of PGME that all residents follow and abide by current PHO guidelines.
The safety and wellness of our residents remains our top priority.
You are invited to visit the Faculty of Medicine's coronavirus FAQs page for answers to common questions about COVID-19 from our Faculty of Medicine experts.
The sections below address some of the most common concerns for residents and postgraduate trainees regarding COVID-19 and will be constantly updated with the most recent and accurate information. Please email us at postgrad@postgrad.med.ubc.ca if you have questions which are not addressed here.
Residents' travel and Elective opportunities
Can Residents travel to do electives or attend conferences? What are the restrictions?
With respect to academic activities, program electives, conferences and meetings, PGME programs and residents must follow recommendations provided in the Government of Canada Active Travel Advisories.
The latest information can be found here:
Elective rotations and conferences are considered non-essential travel.
Please note that exceptions to the recommencement of electives continue to apply within all levels of core Internal Medicine and medicine sub-specialties, where incoming and outgoing electives are cancelled through to the end of block 2 (August 30, 2021). Some exemptions to this may be possible. However, we expect that elective opportunities will open up in core Internal Medicine and medicine sub-specialties for block 3 and beyond (August 30, 2021 and onward). Please approach the appropriate Program Director for more details. Details regarding UBC Department of Medicine Sub-specialty Program Directors can be found here
Please see this announcement from The UBC Department of Medicine relating to this here
UBC Plastic Surgery also has restrictions in place which are currently preventing incoming elective opportunities. This situation will be reviewed in March 2021.
Certification Examinations
Royal College Examinations – 2022
The 2022 Royal College Fall Examination dates and sites are now available here
Please carefully review the written, oral and OSCE exam dates and sites, as some may have moved by as much as four weeks relative to 2021 exam dates.
Medical Council of Canada Qualifying Examination (MCCQE) Part II
The Medical Council of Canada (MCC) announced on June 9th 2021 that it would step away from delivery of the MCCQE Part II examination.  The MCC would grant the Licentiate of the Medical Council of Canada (LMCC) to candidates who meet all the following requirements:
1. Are a graduate from:
a) a medical school accredited by the Committee on Accreditation of Canadian Medical Schools or the Liaison Committee on Medical Education; or
b) a medical school listed in one or more directories of medical schools approved from time to time by resolution and be a medical school listed in the World Directory of Medical Schools which includes a sponsor note indicating it is an acceptable medical school in Canada; or
c) a United States School of Osteopathic Medicine accredited by the American Osteopathic Association.
2. Have successfully completed the MCCQE Part I (PASS)
3. Have successfully completed:
a) at least 12 months of acceptable clinical post graduate medical training as determined by the Executive Director; or
b) at least 12 months of acceptable osteopathic post graduate clinical training in a program accredited by the Accreditation Council for Graduate Medical Education (ACGME) as determined by the Executive Director; and
4. Have the required medical credentials including verification of postgraduate training successfully source verified through MCC or, in exceptional circumstances, have provided evidence of the required medical credentials acceptable to the Executive Director.
---
Are there any special considerations for residents attending certification and/ or Medical Council of Canada Examinations in the Spring
Residents are expected to follow procedures and protocols as per above and follow Public Health recommendations. Program directors / Program Committees often provide rotations prior to examinations based on Residents' needs, opportunities for study and other factors that optimize chances of success at examinations. This level of consideration should continue taking into account program and residents' needs. MCC, RCPSC and CFPC are monitoring the situation closely and have committed to providing updates to examination candidates as decisions are made regarding examinations.
See below for key links relating to Royal College of Physicians and Surgeons of Canada 2021 Exam Information
Examination Dates
Please see Fall 2021 examination dates here
Examination Locations
Candidates can choose to do their written 2021 exams in person at one of our regional hotel exam sites
Exam Delivery Details
Please see the Royal College Spring 2021 Exams: Frequently asked questions
Discipline Specific Exam Format Details
Please see discipline specific examination information here
The Association of Faculties of Medicine of Canada's Board of Directors has decided that all interviews taking place in the fall of 2021 for the 2022 Medicine Subspecialty Match, Pediatric Subspecialty Match and Family Medicine, Enhanced Skills Match will be in a virtual format including those for local candidates.
The 2022 Resident (R-1) Match will also take place in a virtual capacity.
Residents starting training in July 2021
If a resident's arrival is delayed (for example due to restrictions of flights), what are the implications for residents if they are not in BC in time for the residency on-boarding?
View response
Any delay in residents starting will be managed at the time based on circumstances. Given the dynamic nature of the situation, these circumstances are difficult to predict months in advance. However, it is expected that all incoming residents will follow recommendations by the Provincial Health Office. Any system, government, health authority, or UBC related delays will be managed for all learners in a similar fashion. Individual delays will be managed on a case by base basis. Right now, determinations of training extension or salary implications cannot be predicted. As the time nears, all potential options will be shared with the incoming residents. This will require coordination between UBC and the residents' employer. Depending on the recommendations in place appropriate flexibility will be on offer in terms of the ability to start, which will account for all scenarios.
Some incoming residents may face challenges completing certain requirements for residency (e.g. ACLS courses) Are there any plans for how to adapt to this?
View response
For mandatory courses such as ACLS, PGME will work with programs, providers, and Health Authorities to provide courses for those who were unable to complete them. This may be around the time of on-boarding, but if this is not logistically feasible, the extension of deadlines and further courses in the summer or fall will be considered.
For ACLS, incoming residents may wish to refer to blended learning opportunities available through The Heart & Stroke foundation – see link below.
Part 1 is online only (6 hrs approx.) and Part 2 (6 hrs approx.) is in person. Part 2 will take place once distancing restrictions have been lifted.
Are there any guidelines/recommendations for self-isolation prior to the start of residency?
View response
PGME continues to follow guidelines set forth by the Provincial Health Officer with respect to self-isolation (there is nothing specific for our new residents). In BC currently only those residents who arrive from outside Canada need to self-isolate for two weeks. Those travelling to BC to attend residency at UBC from within Canada need not self-isolate at this stage, though things may change.
For those arriving from outside Canada and needing to self-isolate prior to commencing their training the following documentation is intended to assist with this process:
Carefully review the information provided in the UBC PG Trainee COVID-19 package
Carefully review the information provided in the UBC PG Trainee Self-Isolation Plan
Carefully review the information provided in the BC Self-Isolation Plan
I have not yet received my first dose of the COVID-19 vaccination, and I am starting residency on July 1. What should I do?
View response
Please see the memo here from The Executive Director, Safety, Health & Wellness. Please call the provincial booking line as noted. This process applies to all incoming UBC residents irrespective of their training location. It applies only to those who have not yet received the first dose of the vaccination.
Is there a process for COVID-19 vaccination reporting for incoming residents?
View response
Information from the BC Health Authorities on a process specifically for incoming residents to self-report their COVID-19 vaccine status will be coming soon. This page will be updated when we have more information.
This page will be updated as information becomes available. Incoming residents with additional questions are encouraged to review the New Resident Registration Guide or contact the UBC PGME office at postgrad@postgrad.med.ubc.ca.
Resident scheduling and re-deployment
COVID-19 Redeployment
At the moment, the redeployment of residents from multiple programs to support VGH CTU, RCH ICU, and VGH ICU are currently underway and we anticipate a continued need at these units (and potentially others) for weeks to come.
It is important to know that, at this time, redeployment is completely voluntary for those residents that Program Directors feel are appropriate and eligible to be redeployed (i.e. that their education would not suffer as a result of redeployment). Also, any redeployments of residents are for a maximum of two weeks.
Residents who have volunteered for redeployment in a different Health Authority will be provided with coverage of travel expenses consistent with the PGME policies.
Emergency registration and hiring residents as attending staff (for appropriate senior residents who would volunteer) has not yet occurred. This would occur if:
There was overwhelming unmet clinical need
The Health Authority exhausted all other measures to provide care
A reasonable training experience was no longer possible
Clinical Fellows and Postgraduate Trainees
This page will be updated as information becomes available. If you have additional questions you are encouraged to contact the UBC PGME office at: pgme.electivesandfellows@ubc.ca.
What is the latest with respect to travel restrictions for Clinical Fellows and Postgraduate Trainees?
An exemption from travel restrictions has been granted by the Federal Government for Temporary Health Workers and Learners. This includes VISA Clinical Fellows, Postgraduate Trainees and residents. The College of Physicians and Surgeons of BC will start to process the applications in place for those trainees to begin in July 2020. Please see the Government of Canada website here for up to date information relating to temporary workers.
Where can I get further information on immigration relating to the ongoing COVID-19 situation?
Please see the Government of Canada advisory website here for up to date information.
Will I be required to self-isolate prior to starting my training?
As a result of the COVID-19 pandemic incoming postgraduate trainees and fellows arriving from outside Canada will be required to self-isolate prior to commencing their training and submit a self-isolation plan. The following documentation is intended to assist trainees with this process:
Carefully review the information provided in the UBC PG Trainee COVID-19 package
Carefully review the information provided in the UBC PG Trainee Self-Isolation Plan
Carefully review the information provided in the BC Self-Isolation Plan
How does the Lower Mainland Provincial Public Health Restrictions affect residency training?
Resident travel for rotations
The Provincial Health Orders exclude worksites and educational activities. Hence resident travel for rotations into and out of the lower mainland is permitted. It is expected residents will minimize contact and use precautions (wearing a mask, monitoring daily symptoms) if they are going from the lower mainland to a lower risk community, as well as continuing to adhere to the local hospital/clinic safety guidelines.
Resident travel for academic sessions
Programs are to continue with the current process of approval within the Faculty of Medicine.
What clinical care can UBC medical students participate in?
Please see this COVID-19 Quick Reference guide for information on the clinical care that residents can expect UBC Year 3 & 4 medical students to participate in.
What steps should Residents showing symptoms of sickness take?
Residents with flu-like symptoms should not be at work, but should recuperate at home on sick leave. This approach not only allows ill residents to get well, but also protects staff and patients.
A sick resident who completes a period of self-isolation directed by public health authorities will be provided with documentation clearing them to return to work, when they are recovered and no longer infectious. Sick residents who have not been directed to self-isolate should return to work when symptoms cease.
If you are concerned that you are experiencing the symptoms of COVID-19, please contact your regional health officer:
Fraser Health – 1-604-527-4806
Interior Health – 1-866-457-5648
Northern Health – 1-250-565-2000
Vancouver Coastal Health – 1-604-527-4893
Island Health – 1-800-204-6166
Current BCCDC guidelines applicable to residents are available at:
The BC Health Care Worker Return to Work Decision Tree below details current guidelines as of September 16, 2020: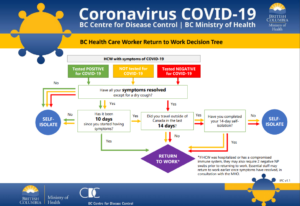 Residents working with COVID-19 patients
What precautions should residents take when working with suspected, probable or confirmed cases?
Residents are healthcare workers and learners. Hence, they are expected to care for patients according to the guidelines and recommendations provided by Public Health and the Health Authority in which they are working. Updated guidelines can be found here, and residents should familiarize themselves with these guidelines:
The Collective Agreement continues to govern the terms of residents' employment.
Caring for a patient with COVID-19 or want to learn more?
The following resource is one (of several) which is being used by our teams:
Questions concerning access to PPE?
Doctors of BC have a resource listing contacts in each health authority region in BC for questions about supply and distribution of PPE.
If a resident has a workplace exposure to COVID-19 that is confirmed positive, they are to follow the procedures at the link below and contact the HA Workplace Call Centre to report the exposure.
Residents concerned about exposure
What should a resident who believes he/she has had exposure irrespective of travel do?
Similarly, residents who are asymptomatic and have not recently returned from designated COVID-19 affected regions, but believe they may have been exposed to COVID-19 should be directed to contact 8-1-1, their primary care provider, or local public health office, and follow direction given to them by those sources.
If a resident is instructed by a qualified medical practitioner to self-isolate at home, such a period of self-isolation should be treated as a paid general leave of absence for the duration of the recommended isolation period, except in circumstances where it is feasible for an asymptomatic resident to work from home during self-isolation (see below under the heading: Under what circumstances should and can a resident work from home).
If the Health Authority where the resident is working has the ability to refer its employees, including residents, directly to a Medical Health Officer for assessment, residents with community exposure concerns may be directed to seek assessment by a Medical Health Officer in order to be eligible for paid general leave.
Residents should be directed to keep their Residency Program updated regarding the status of any medical assessment or direction they receive from a qualified medical practitioner. Residents awaiting medical direction or COVID-19 test results should be placed on a paid general leave of absence, provided they are being responsive to the Residency Program's requests. If a resident is not responsive or if there is concern about the need for self-isolation, Residency Programs should contact the PGME, who will liaise with HEABC for advice.
If a resident has been advised by public health or a medical practitioner to self-isolate or modify duties due to COVID-19 risk (not exposure), they would need to contact their Program Director to discuss their options, which could include working from home.
If a resident feels they are at an increased risk for serious complications with COVID-19 exposure, they are to contact their Program Director and/or the Postgraduate Deans (Dr. Sonia Butterworth and Dr. Ravi Sidhu) to discuss.
Please see the BCCDC guidelines below which includes criteria to assess risk for health care workers exposed to COVID-19 patients as well as information about returning to work after exposure or illness.
Do I attend work if I have concerns?
If I am concerned do I have to attend work?
Although concerns about potential exposure in the community are understandable, Residents who do not have symptoms of illness or who are not actively seeking direction from a qualified medical practitioner are expected to attend work as usual.
Residents, as Registrants of the College of Physicians and Surgeons and employees of HEABC have a duty to provide care consistent with their licensing and status as a health care provider. If a resident is absent from clinical duties without leave, the Program is to report this information to the PGME Office.
How was this protocol developed?
How did the PGME develop these procedures (related to leave) and response to COVID-19?
The UBC Faculty of Medicine worked with HEABC to ensure that the answers set out above are consistent with the Resident Doctors' Collective Agreement and with the approaches being applied by health authorities with respect to other health care workers.